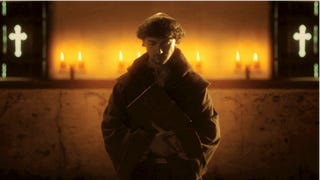 Tonight we welcome Vikings actor George Blagden to io9 to live blog about all things drenched with salt water and blood. Blagden, who you may remember from Les Misérables and Wrath of the Titans, plays the character Athelstan, a loan monk who was spared from the great Monk slaughtering that took place when Ragnar and his raiders reached England's shore. Why was he spared, we're not sure. Hopefully the man behind the Monk can share a little bit of his knowledge as he live blogs through this third episode.
The page will update as the episode airs on the West Coast, so keep checking back! And welcome Athelstan!
UPDATE: This is actually happening at 11 PM PST, sorry about the mix up!
Hi everyone! 5 minutes until the 3rd episode of Vikings begins.....are you ready?
What do you think will happen to Athelstan now he's sailing east?
Viking's Live Blog Penned by George Blagden:
Here we go....
Impressive boat Floki....
David Pearse is so good as Svein - evil, evil character
Why is he asking me all these questions?!
the whole scene on the boat was actually shot in a car park!
"May God rest your soul, Brother Cenwulf..."
Did you know all the Viking warriors were trained how to sail the ship for real?
I actually got rope buallay point point here!
So, what do you we think the Earl will say?
Between takes, Travis would actually tie me to things on set without me noticing, and then walk off, watching as I strangled myself.....unbelievable....
"Like babies...."
Wow. Travis, you're better at fighting than dancing....!
Wow. Was not expecting that.
So. What's Ragnar's next move?
Gabriel Byrne. Movie Star.
These first three episodes were shot in the height of summer. Who decided in 793 A.D. That monks should wear thick, woolly brown robes?!
Pretty interesting scene coming up.....Lagertha and Ragnar have something to ask Athelstan....
Wow. Nice house dude....
Nathan (Bjorn) constantly laughed at my haircut. Don't know what he's got to laugh about....
Awkwarddddddd.......
This was first scene I ever shot on Vikings! I. Was. Terrified.
No acting required!
Head of make up, Tom, was stood above me for this slowly dripping blood onto my head for it to run down my face in the close-up.
Earl Haraldson needs to not hold grudges.....
Again, Svein. You horrible, horrible man.
So. Athelstan isn't allowed to do a lot of things. But drinking? Yes. He can do that. Badly. But he can do it. As you're about to find out....
He's just a bit of an idiot for not realising what Ragnar is really trying to get from him....
God, these Vikings are thick, aren't they?!
"What are their souls?"
I wasn't supposed to be kneeling in this scene, but Travis pushed me to the floor at the start, sooooooo.....
Don't you think the music by Trevor Morris is good?
"No! I'm not carrying your bag anymore!"
Yeah. I agree with Bjorn.
Athelstan's not really use to women.....he's wondering if they're ALL as intense as Lagertha?!
Wow. Didn't know you could become a legend on Facebook. That easy, huh?
Did you know archeologists actually found a real Viking sun stone recently?
So who thinks Knut is lying?
During this scene, the Vikings are speaking ancient Norse and the Saxons are speaking ancient Anglo-Saxon. I love this scene.
Ragnar picks up new languages fast though, right?!
You could cut the tension with a knife......
Bad joke, right?
NO, FLOKI, NO!
All the actors were trained in combat and did all their own fight scenes. Well, almost all.....not the monks....
Wonder where that rider's off to....
Well, thanks for joining me for the 3rd episode of Vikings. Hope you enjoyed it, let me and the Vikings team know what you thought on twitter at @gblagden or @HistoryVikings
Follow the rest of the cast: @KatherynWinnick @CliveStanden @TheRealAlyssaS @elinor_crawley @donallogue @RoannaCochrane
Tune in next week for another episode of Vikings on History at 10/9c